Top-shelf Education opens global opportunities. Do you have concerns about obtaining funding for your overseas education? High cost is the biggest concern. You need not worry much since there are many study loan options available in the market. Fixed Assets like real estate can serve as security for an education loan, allowing you to obtain the loan at a lower interest rate for a longer loan period.
A Loan against property for studying abroad is a secured loan offered against mortgaged property. An owned property can be a house, an apartment or flat, a piece of land, or any other type of commercial facility. Loans against property are sanctioned based on the market value of the property, which remains as collateral with the lender until it is repaid.
Would an education loan on the property be able to be used for overseas education?
The loan against property may be used for higher education. Students who are pursuing higher education in India or overseas may apply for this loan. Higher Education may be pursued part-time, full-time, or vocationally along with bachelor's or master's degrees in fields such as management, engineering, hotel management, etc.
Maximum loan amount – The maximum loan amount available on a loan against a property is largely determined by the current market value of the property. As a result, students can obtain a high loan amount with a higher market value.
Low-Interest rate – These secured educational offer low-interest rates as compared to unsecured ones. Rates for mortgage loans start at around 7.25% p.a. with public sector banks in India.
Utilization of the Ideal property to its maximum potential – Usually though our homes or real estate are considered assets, we don't use them to their full potential. Collateral education loans assist in obtaining a loan based on the real value of the property. Applicants can decide not to sell their property and still assists in obtaining a loan based on the real value of the property. heir requirements at reasonable rates of interest.
Easy Documentation and Process – The documentation process assists in obtaining a loan based on the real value of the property. education is usually uncomplicated.
Flexibility in payment tenure – As these loans are secured, banks are less stressed out with them. There is flexibility in repayment tenures for loans against property. Loans may be repaid over a period of up to 20 years.
Loans up to Rs 7.5 lakh generally do not require collateral and in the case of abroad studies loans up to 55 lakh don't require to be collaterally secured.
It is possible that banks may not require collateral for loans of larger amounts if you are accepted into a reputable institution. We have information on
how to get Overseas Education Loan without collateral
in our other blogs.
What is the process for applying for a study loan on property?
Bank branches and online applications are available for students who wish to apply for a student loan on the property. A set of documents will be required from applicants related to their academic background, address identification, and property they intend to mortgage. Furthermore, they will be required to provide the bank statement of the co-applicant. Lenders evaluate the repayment capacity of applicants and the current market value of the Real estate before sanctioning loans.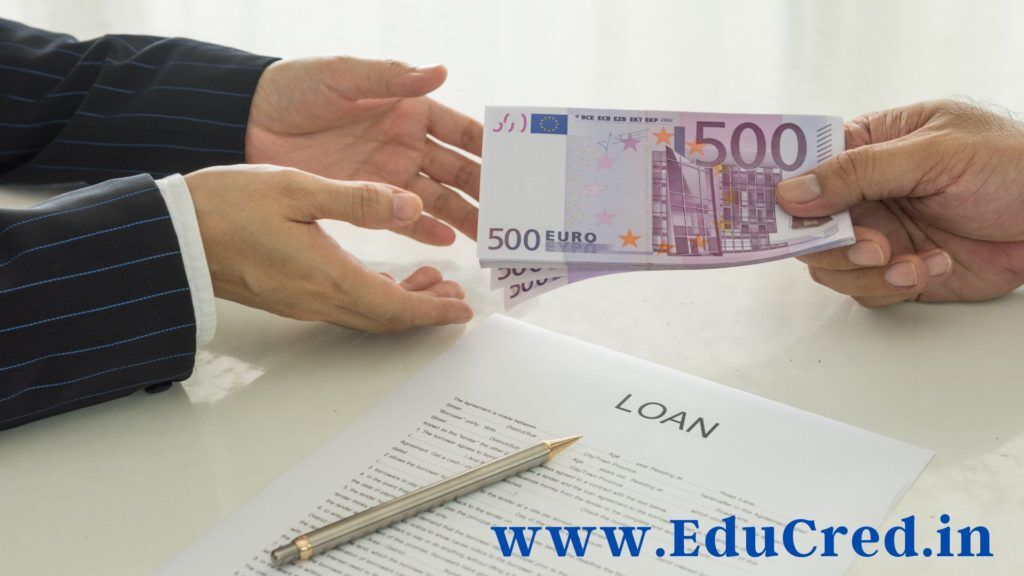 How does an education loan

against property get disbursed?
The following steps are followed in order to disburse an education loan against property:
The applicant must complete the application form by providing all the necessary information.

An application will be processed by the lender after it has evaluated the repayment capacity. Based on the current market value of the property, repayment capacity, and co-applicant, the lender will approve or reject the application.
Applicants will be required to submit the required documents following the approval of the loan application.
The bank will then sanction the loan and provide the letter once the documents have been verified.
The appropriate officials will determine the current market value of your property.
After successful verification and approval, the lender will transfer the education loan amount to the student's account.
If I already have an active home loan, am I eligible for an education loan on the prope

rty?
An applicant's repayment capacity is the sole criterion for obtaining a loan from a bank. If the applicant is still able to repay the new loan installments after being given the home loan EMIs, the lender will sanction the education loan. In some cases, however, the applicant's home loan EMIs may be so high that any additional debt will have a significant impact on his or her monthly budget. The lender will not approve the education loan in such a case since the applicant will not be able to pay it back.
If in addition to seeking an education loan, you may also be interested in checking your loan eligibility and receiving free assistance during the entire loan application process
How are education loans against property repaid?
In order to repay the secured overseas education loan, applicants are required to make EMI payments as per the predetermined loan tenure. Various options are available for students to make their study loan repayment easier and more manageable, such as part-payment, balance transfer, or foreclosure. By making part payments, you can reduce your EMIs or loan terms. Alternatively, balance transfers allow borrowers to switch banks in order to obtain a lower interest rate. As a result of foreclosure, the loan is repaid in full before the end of its tenure. In this way, interest payments are reduced.